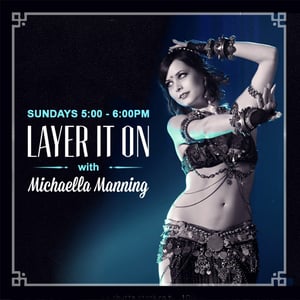 $

75.00 - On Sale
New 6-Week Class by Michaella Manning Beginning February 3rd, 2013
**The early bird pre-registration discount has ended; however you can still register for the 6-week series here. You can also pay in person with cash or check on the first day of class.
Class Details:
"LAYER IT ON" with Michaella Manning
This 6-week series will focus on developing polished layers and incorporating them into dynamic combinations. Following a warm-up and conditioning drills, each class will systematically layer isolations, fluid arms, and traveling patterns. We will then finish each class with a short combination incorporating our new layered sequence. Level: Open to all levels, however an understanding of fundamental bellydance movements is recommended. This session is designed to be accessible and challenging for the experienced beginner to the advanced dancer.
When: Sundays 5:00-6:00pm starting February 3rd
Where: Hollywood Dance Center | 817 N Highland Ave, Hollywood CA 90038 (hollywooddancecenter.com)
*Non-refundable & only applies to the February 3rd, 2013 session of classes.